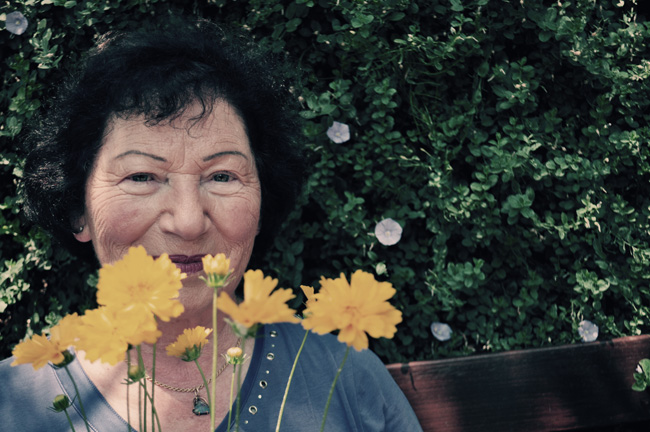 Aviv LeNitzolei HaShoah- Non Profit Organization
The situation of Holocaust survivors in Israel
Of the approximately 180,000 elderly Holocaust survivors living in Israel today, nearly quarter live in poverty. Thousands of Israeli Holocaust survivors do not take advantage of their rights under the law and existing programs. They are unaware of benefits due them from Israel's Finance Ministry, from Germany, from the Conference on Jewish Material Claims against Germany, from the Foundation for the Benefit of Holocaust Victims in Israel and other agencies.
Unfortunately, even the professionals and volunteers working with Holocaust survivors are unaware of the latter's basic rights and cannot guide these elderly people through the bureaucratic maze. Those paying out the pensions and grants know only what is being done in their own area of expertise, and cannot provide survivors with a complete picture of their rights.
Thus, elderly Holocaust survivors are left with many questions, few answers and, primarily, without full realization of their rights. Realizing their rights would ensure that they live the rest of their lives with dignity and in comfort.
9 years ago Adv. Aviva Silberman founded Aviv for Holocaust Survivors.
With our dedicated team of advocates and volunteers:
We have succeeded in guiding survivors to receive more than 250,000,000 NIS (US$65,000,000) due to them from Israeli and German institutions.
We have initiated an Internet site in order to reply to all questions, free of charge. More than 300,000 visitors have entered our site until today.
We have developed special instructional materials, making it possible to understand all the rights of Holocaust survivors in Israel.
We have been training volunteers from the Kibbutz Movement, who helped approximately 6,000 Holocaust survivors living on kibbutzim to realize their rights.
We have trained 8000 volunteers and professionals who have helped over 80,000 Holocaust survivors.
We have answered about 50,000 aid requests of survivors and their families.
We gave lectures to Holocaust survivors and have held many Rights Realization Days all over the country.
We send a monthly newsletter to caregivers with updates, hints and tips on Holocaust survivors' rights.
We have initiated radio programs providing important information for Holocaust survivors, as well as question-and-answer programs for survivors.
We have opened 15 "Entitlement Centers" –  weekly individual and professional consulting centers for Holocaust survivors in their communities. This unique project was initiated with the JDC Organization to a joint venture. The aim of this project is to establish "Entitlement Centers" centers all over the country in cooperation with local authorities in the next two years. This project will significantly extend our scope and increase the number of survivors that we can assist. We are running the "Entitlement Centers " in the cities of Haifa, Kfar-Saba, Ramat- Gan, Ashdod, Hod Hasharon ,Modiin, Acco, Kiriat-Yam, Givataim, Ra'anana, Bnei Brak, Rishon Lezion and in Tel-Aviv (donated by the LA-Federation).
The service we give the Survivors is free of charge. We believe they are entitled to receive all of their rights, with no commission or "membership fee".
*Adv. Aviva Silberman received the Leonore and Larry Zusman-Joint Prize for Excellency in the Field of Human Services in Israel in 2009 for her work with Holocaust Survivors.
*On November 2012 an event honoring Aviv for Holocaust Survivors was held at the Knesset by MK Zeev Bielski. We received a certification of honor by the Knesset.
*On May 2013 Adv. Aviva Silberman received the "Decoration of light" award from the Foundation for the Benefit of Holocaust Victims for her contribution to Holocaust survivors in Israel.
For Holocaust survivors, this is the realization of their rights.
For us, this is our mission!
Donations
How can you help?
Aviv for Holocaust Survivors has helped Holocaust survivors receive assistance totaling more than 250,000,000 NIS (US$65,000,000). The services we provide to survivors are free of charge. Because we do not take money for our services, Aviv for Holocaust Survivors now urgently requires additional contributions in order to function and continue its important work and significant assistance for Holocaust survivors.
Our dream is that all Holocaust survivors will be able to live their lives with the dignity and comfort they deserve. With your donation you can help us helping Holocaust survivors.
Instructions for donations
By mail:
Aviv LeNitzolei HaShoah

POB 201

Nechalim 49950

Israel
By wire transfer:
Bank Mizrachi-Tfachot Branch 481

Account name: Aviv Lenitzolei Hashoa

Account number: 183577

Swiftcode: Mizbilit 481183577

IBAN: IL47-0204-8100-0000-0183-577
Please include your name and address so we can send you a receipt.
By PayPal or credit card:
US tax-deductible donations by credit card – Please donate via the IsraelGives web site.